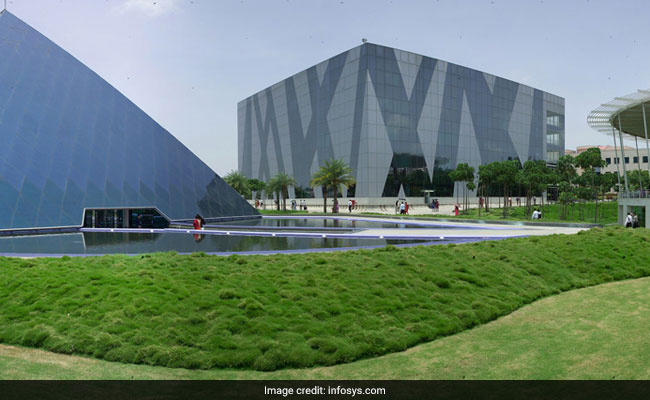 Infosys, the largest IT player, reported a 38.3% rise in the sequential growth in net profit at Rs 5,129 crore for the December quarter.
Consolidated net profit for the three-month period ended 31 December 2017 was Rs5,129 crore, showing a growth of 38.3 per cent year-on-year and a 37.6 per cent growth sequentially.
The company reported a total revenue of Rs 17,794 crore for the October-December 2017 quarter, up by 1% from the Rs 17,567-crore revenue in the previous quarter.
In the December quarter, the USA, which brings 62% of Infosys's revenue, grew 0.7% sequentially, while business from Europe, which accounts for 22.2% of overall revenue, jumped 5.9%.
"During the quarter, on account of conclusion of an Advance Pricing Agreement with the US Internal Revenue Service, the company has reversed income tax expenses provision of Dollars 225 million (Rs 1,432 crore) which pertains to previous periods which are no longer required", Infosys explained.
The IT major has retained its full-year revenue growth guidance in constant currency terms at 5.5-6.5 percent and also maintained its EBIT margins at 23-25 percent.
The company posted consolidated revenue of $10.2 billion or Rs 68,484 crore for fiscal 2016-17. "We had 8 per cent year-on-year growth and 24.3 per cent operating margin with $593 million of free cash flow".
More news: Forming Executive 'a top priority' says new Northern Ireland Secretary Karen Bradley
Infosys reported a rise in net profit of 38.3 percent from a year earlier to 51.29 billion rupees ($806 million) for the quarter to December 31, way above analysts' estimates. This was largely due to lower tax expenses.
"Increased adoption of our digital offerings and new services helped stabilize price realisation".
Salil Parekh, the new CEO and managing director of Infosys, took charge on January 2, after a damaging spat between the company's founders and the board led to former CEO Vishal Sikka's resignation and a management restructuring.
Recalling his pleasant interaction with the founders at the Infosys Prize event two days ago, Parekh said he would continue to have a cordial relationship with them.
"We are progressing towards stability and are well positioned to serve our clients in the new areas of demand" said Parkeh in the statement. "Our cash generation continued to be robust during the quarter." said MD Ranganath, CFO.
Sikka left abruptly in June following criticism from several executives, led by co-founder Narayana Murthy, over strategy and alleged corporate governance lapses. "We also executed the share buyback of Rs 13,000 crore in line with our capital allocation policy", he added.